Division of International Collaboration

U.S. - Japan Cooperative Medical Sciences Program: USJ CMSP(Research on Global Health Issues)
Outline
Key Fields
Other Programs
R&D phase
Basic Study,Applied Study,Nonclinical Study/Pre-clinical Study
Contact

Division of International Collaboration, Department of International Affairs

TEL: +81-3-6870-2215
E-mail: nichibei"at"amed.go.jp(Replace"at"with @)

Overview of the program
The U.S.-Japan Cooperative Medical Sciences Program (USJCMSP),one of the oldest bilateral programs in the history of the National Institutes of Health (NIH) of United States, was established in 1965 (under a US Presidential-Japan Prime Ministerial level agreement) to strengthen the Japanese research capacity and address issues of public health importance in the Asia-Pacific region. The program continues to maintain its value as a unique tool to foster research collaboration among the US, Japan and the Asia-Pacific Region. The program has nine Joint Panels (AIDS; Acute Respiratory Infections; Cholera and other Bacterial Enteric Diseases; Hepatitis; Parasitic Diseases; Cancer (previously the Genes, Environment and Diseases Panel); Nutrition and Metabolism (inactive on the US side); Mycobacterial Diseases; and Viral Diseases) and one cross-cutting Joint Immunology Board. For more information also visit the NIH home page
Under the U.S.-Japan Cooperative Medical Sciences Program (USJCMSP), the diseases panels are engaged in research into aspects of diseases that are endemic in the Asian region in areas including nutrition and metabolism, cancer, AIDS, hepatitis, parasitic diseases, viral diseases, mycobacteria, acute respiratory infections (bacterial/viral), cholera and other bacterial enteric diseases and immunology.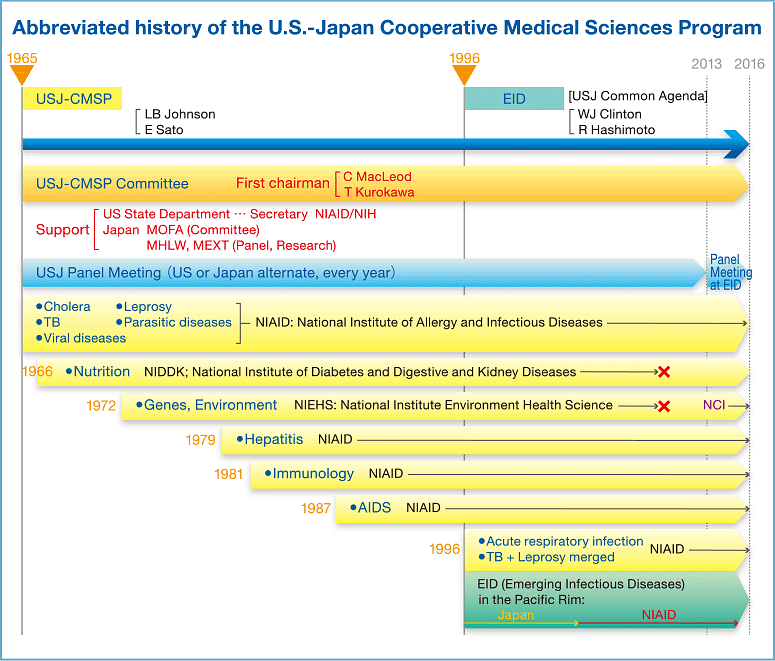 Implementing Body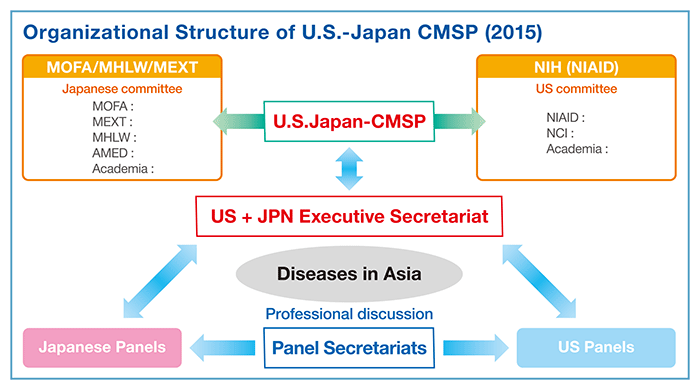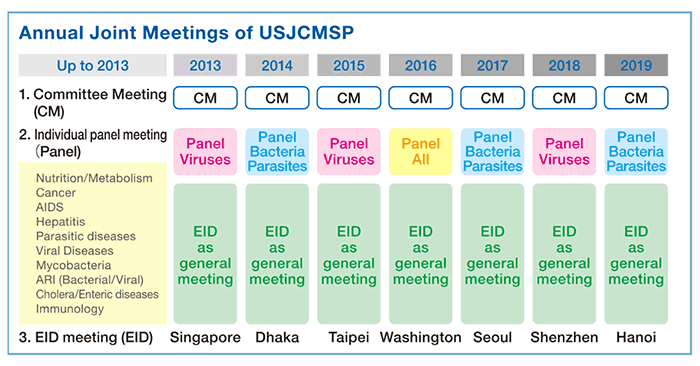 Research Period: JFY2016
Diseases panels and research field
Chair
Title and Representative institutions
AIDS
Director and Professor,
Tetsuro MATANO
Institute of Medical Science,
The University of Tokyo,
National Institute of Infection Diseases
Acute Respiratory Infections
Director,
Keigo SHIBAYAMA
Department of bacteriology II,
National Institute of Infectious Diseases 
Cholera and other Bacterial Enteric diseases
Professor,
Mitsuaki NISHIBUCHI
Center for Southeast Asian Studies,
Kyoto University
Hepatitis
Professor, Deputy Director,
Takaji WAKITA
Department of Virology II,
National Institute of Infection Diseases
Parasitic diseases
Professor,
Kenji HIRAYAMA
Department of Immunogenetics,
Institute of Tropical Medicine,
Nagasaki University
Cancer

Chief,

Tohru Kiyono

Division of Carcinogenesis and Cancer Prevention National Cancer Center Research Institute
Nutrition and Metabolism
Professor,
Nobuya INAGAKI
Department of Diabetes
Endocrinology and Nutrition,
Graduate School of Medicine,
Kyoto University
Mycobacterial diseases
Professor,
Yasuhiko SUZUKI
Research Center for Zoonosis Control
Hokkaido University,
Viral diseases
Professor,
Jiro ARIKAWA
Department of Microbiology, Graduate School of Medicine, Hokkaido University,
Immunology
Professor,
Hiroshi KIYONO
The Institute of Medical Science,
The University of Tokyo
USJCMSP collaborative awards, 2016 for early-stage and female scientists
The purpose of the USJCMSP collaborative awards is to foster new or expanded infectious diseases and immunology focused biomedical research collaborations between researchers in Japan, the Asia and Pacific region (APac), and U.S. investigators and institutions. It is required that all collaborative research project is implemented by the collaborative teams including early-stage or female investigators from around the region.
Competition opened in 28th July 2016 and proposal submission deadline was 30th, September, 2016. The results will be announced in November 2016.
Reference
News
2016.11.02 Call for abstract

(Now closed)
The deadline for abstracts submission: December 9, 2016
Past funding opportunities
2016.7.28 Calls for proposals

(Now closed)
Deadline: Sep 30, 2016
Brochure