Topics

GloPID-R (Global Research Collaboration for Infectious Disease Preparedness) General Assembly held in Tokyo
2019.5.22Topics
On May 13th and 14th 2019, the GloPID-R (Global Research Collaboration for Infectious Disease Preparedness) General Assembly was held at the Shinagawa Prince Hotel in Tokyo.
GloPID-R is an international network of research funding organizations established in 2013, which aims to support the rapid initiation of scientific research in the case of an infectious disease outbreak. AMED joined this network in August 2015.
This year's General Assembly was hosted by AMED with about 70 scientists and GloPID-R members from Europe, North and South America, Africa, and Asia participating in the assembly. During the two days the participants discussed how GloPID-R can contribute to recent outbreaks or potential threats from infectious diseases such as Ebola, Lassa fever, Chikungunya, and so on.
On the morning of day 1 a side event on data sharing was held where Dr. Makoto Suematsu, president of AMED, provided the opening remarks. Various approaches to data sharing in the infectious disease research field were presented by the participants, and the data sharing working group of GloPID-R presented their action and achievements to advance data sharing.
At the end of the event a lively discussion was held with the panel. Aside from participants at the assembly, participants from some countries joined remotely via video conference, contributing to the deep discussion.
AMED will continue to collaborate with international organizations to support infectious disease research.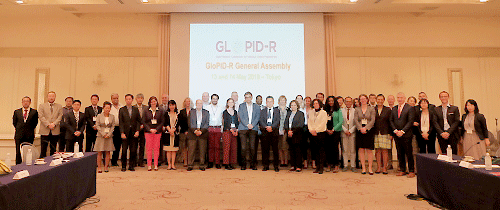 Links