Events

AMED Singapore Office participated in the "Thailand National Science and Technology Fair 2018" exhibition in Bangkok
Conference Report
"Thailand National Science and Technology Fair 2018" by the co-sponsorship of the Ministry of Science and Technology (MOST) and National Science Museum of Thailand, was held from 16th to 26th August 2018 at the Impact Muang Thong Thani near Bangkok, in collaboration with various public and private organizations from both Thailand and overseas. The fair was started since 1984, and the main theme this year was "Inspiring young Thais to see the importance of science and technology, encourage them to think scientifically and to learn how to use and manage technology wisely".
AMED Singapore Office was invited by the Embassy of Japan in Thailand to a part of the Japan Pavilion this year. Two AMED R&D results were introduced; "Development of cell production processing systems for regenerative medicine based on human induced pluripotent stem cells (iPS cells)" – developed by research team led by Professor Masahiro Kino-Oka from Osaka university, and "Smart Cyber Operating Theatre" – developed by research team led by Professor Yoshihiro Muragaki from Tokyo Women's Medical University. Great interests in Japanese medical technologies were shown by numerous young people, as well as various professionals such as engineers, biotechnologist, investors and so on at the fair.
In the Japan pavilion, a total of ten Japanese institutions and organizations including National Space Policy Secretariat of the Cabinet Office, Japan Aerospace Exploration Agency(JAXA), Geo-Spatial and Space Technology consortium for innovative Social Services(GETISS), National Institute of Information and Communications Technology(NICT), Japan Science and Technology Agency(JST), Japan International Research Center for Agricultural Sciences(JIRCAS), Japan-ASEAN Science, Technology and Innovation Platform(JASTIP), RIKEN, Japan Society for the Promotion of Science(JSPS) Bangkok Office, and AMED Singapore Office participated.
On 17th August 2018, Prime Minister General Prayuth Chan-ocha came for the opening ceremony and visited the Japan Pavilion together with Dr. Suvit Maesincee, Minister of Science and Technology. They were warmly welcomed and guided by the Japanese Ambassador to Thailand, Mr. Sadoshima, to see all the Japanese science technologies. There was a great turnout with more than one million visitors including Thai youth at the fair during the period.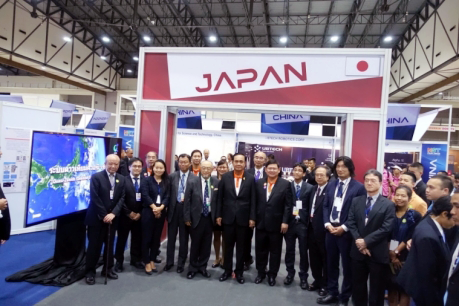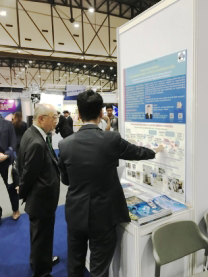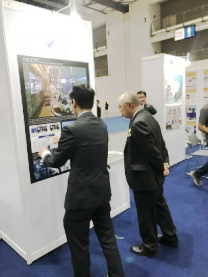 Explaining AMED R&D results to Japanese Ambassador to Thailand, Mr. Sadoshima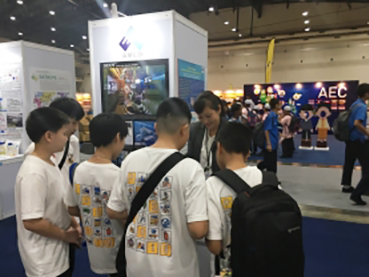 Thai students gathering around the AMED booth