Global Successes

Integrated Research for the Control of Dengue Fever in Burkina Faso
International Collaborative Research Program for Tackling the Neglected Tropical Diseases (NTDs) Challenges in African Countries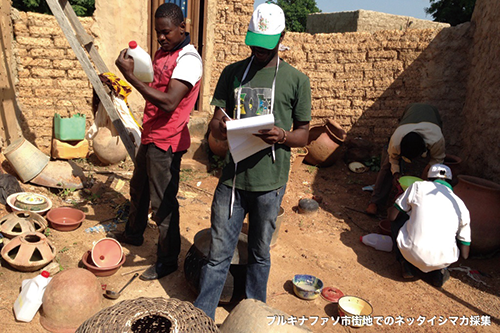 Neglected Tropical Diseases (NTDs) are prevalent in 149 countries around the world, and the number of NTD patients has already exceeded 1.4 billion. Almost half of these patients reside in Africa, where NTDs are particularly rampant.
The International Collaborative Research Program for Tackling the Neglected Tropical Diseases Challenges in African Countries (ICREP-NTDs) was established in 2015 to enable cooperation between research institutions in Japan and Africa. The program facilitates international joint research projects, human resource development and international standardization. The overall goal of which is to control NTDs and create a safer Africa.
One aspect of the large-scale initiative was the Integrated Research Program for the Control of Dengue Fever in Burkina Faso, which began in November 2015. A collaboration between the Jikei School of Medicine in Japan and Université Ouaga in Burkina Faso, the program was a study into the distribution of dengue fever through mosquitos – the first study of its kind in recent years.
It was clear that a new, short-term strategy was necessary until a successful vaccine or long-term control method was discovered. In response, a study into the diagnosis, ethology, immunity, and epidemiology of vector species was performed and an Integrated Vector Management (IVM) system was developed to control the mosquitos and the spread of dengue fever.
As part of the IVM system, a single-step RT-LAMP assay was developed to detect not only Dengue fever, but also the Zika virus in mosquitos. Furthermore, a biocontrol strategy that uses an obligate intracellular bacterium to limit the replication of Dengue in mosquitos is currently under development.
Following the two-year program, a new detection technology – the vDNA-LAMP method – was also introduced in September 2017. The simple device enables local scientists and researchers to easily perform virus inspections on mosquitos, and will ultimately assist in the fight against NTDs in Africa.
Concept
Utilize Japan's scientific and technological capabilities to contribute towards the fight against Neglected Tropical Diseases (NTDs) in Africa, including Dengue fever in Burkina Faso. Assist emerging and developing African nations by strengthening scientific, technological and human resource ties.
Progress
Research from the international collaborative research program has resulted in two new methods of virus detection, while a biocontrol strategy against Dengue fever in Burkina Faso is currently under development.
Collaborators
Jikei University School of Medicine, Japan; Université Ouaga, Burkina Faso