Global Successes

The World's First Allogeneic iPS-derived Retina Cell Transplant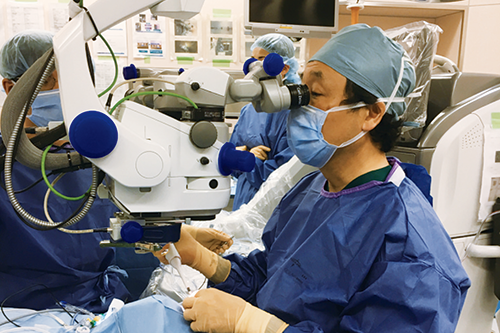 Seeking to become a global leader in the field of stem cell technology, AMED is supporting research and development towards the clinical application of regenerative medicine based on stem cell technology.
In 2014, Masayo Takahashi, Project Leader of the RIKEN Center for Developmental Biology began the world's first clinical study of induced pluripotent stem cells (iPSCs), using iPSC-derived retinal pigment epithelial (RPE) cell transplantation to treat age-related macular degeneration (AMD).
AMD is a relatively common eye condition among people over 50 that causes damage to the macular – a small spot on the center of the retina essential for clear vision. Dr. Takahashi and her team first succeeded in treating the disease in 2014, in a procedure involving reprogrammed iPSCs from the patient's own RPE cells.
Although the procedure was a remarkable breakthrough in regenerative medicine, certain obstacles remain due to the high expenses and excess cultivation time related to using iPSCs from the patient's own RPE cells.
To overcome such hurdles and introduce the use of allogeneic iPSCs, Kyoto University's Center for iPS Cell Research and Application (CiRA) developed medical iPSC stock with cells collected from extremely rare donors – those with Human Leukocyte Antigens with low immunorejection. This ensures iPSCs can be rapidly accessed when necessary.
This process led to another world's first, when in March 2017, an allogeneic RPE transplant was successfully carried out at the Kobe City Medical Center in collaboration with Osaka University. By November of the same year, a further five patients had received transplants using allogeneic iPSCs.
As it stands, stock iPSCs match approximately 32% of the Japanese population, but CiRA aims to increase this figure to 50% by 2022.
Moving forward, as expectation surrounding regenerative medicine increases, AMED aims to lead the way in the research, development and application of allogeneic iPSC-based regenerative medicine, keeping safety and efficacy at the heart of everything we do.
Concept
Examine the safety of RPE cell transplantation. Utilize allogeneic iPSCs to develop new treatments for AMD. Contribute to enhancing the lives of patients through regenerative medicine.
Progress
Since the first successful generation of iPSCs by Professor Shinya Yamanaka in 2007, regenerative medicine has progressed significantly. 2014 saw the world's first transplant operation of RPE cells from a patient's own iPSCs, and in March 2017, allogeneic iPSCs were first used in procedure. To date, five patients have undergone successful transplants.
Collaborators
RIKEN Center for Developmental Biology; Center for iPS Cell Research and Application, Kyoto University; Foundation for Biomedical Research and Innovation at Kobe, Kobe City Medical Center General Hospital; Graduate school of Medicine, Osaka University