News Releases & Research Results

The Japan Agency for Medical Research and Development(AMED)and the Health Emergency Preparedness and Response Authority of the European Commission(HERA)Signed a Working Arrangement on Cross-Border Infectious Disease Emergency Preparedness and Response in the Area of Medical Countermeasures
News Releases & Research Results
TOKYO, Japan/ Brussels, Belgium; 27 October 2023: On October 27, the Japan Agency for Medical Research and Development (AMED) and the Health Emergency Preparedness and Response Authority (HERA) signed a working arrangement on cross-border infectious disease emergency preparedness and response in the area of medical countermeasures. The signing ceremony was held virtually. Dr. MISHIMA Yoshinao (President of AMED) signed the working arrangement in the presence of Mr. Jean-Eric Paquet (Ambassador of the European Union to Japan) at AMED Headquarters in Tokyo, Japan, and Mr. Laurent Muschel (Acting Director-General of HERA), signed in the presence of Mr. MASAKI Yasushi (Ambassador of Japan to the European Union) at the HERA office in Brussels, Belgium.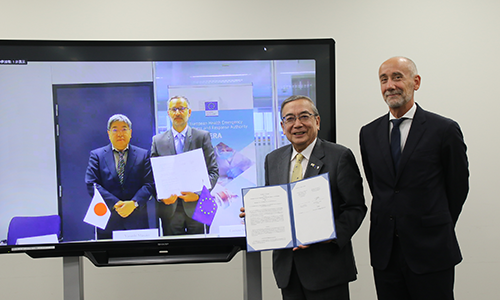 Through this arrangement, AMED and HERA agreed to initiate the following:
Exchange of information and data in relation to advanced research and development of medical countermeasures for the preparedness and response to serious cross-border infectious disease threats.
Identification of research topics and potential collaborative projects addressing priority pathogens of mutual interest.
Organisation of regular meetings between AMED and HERA.
The recent COVID-19 pandemic has demonstrated the need for international coordination in responding to the threat of infectious diseases spreading across borders. In that regard, AMED has signed this working arrangement as part of its efforts to promote international cooperation in the fight against infectious diseases. AMED and HERA are committed to strengthening their cooperation on research and development of medical countermeasures.

---
About Medical Countermeasures(MCMs)

MCMs refer to items that prevent, diagnose, or treat infectious diseases in public health emergencies. Examples include vaccines, diagnostic reagents/kits, medicines and medical devices.

About HERA

The European Commission's Health Emergency Preparedness and Response Authority (HERA) was established in September 2021 to help Europe prepare for and respond to future health emergencies.
Its mission is to prevent, detect, and rapidly respond to health emergencies. A core goal of HERA is to ensure the development, manufacture, procurement, and equitable distribution of key medical countermeasures.
The European Commission is the executive branch of the European Union (EU) and is equivalent to the "EU government and cabinet".

About AMED

AMED is a funding agency that plays a central role in medical research and development in Japan. Based on the "Strategy for Strengthening the Vaccine Development and Production System", formulated by the Japanese government, AMED established the Strategic Center of Biomedical Advanced Vaccine Research and Development for Preparedness and Response (SCARDA) in March 2022 to lead vaccine research and development in peacetime, and to promote rapid vaccine development as a national policy in the case of an infectious disease emergency. AMED also conducts various projects to promote research and development of diagnostics, pharmaceuticals, and medical devices to combat infectious diseases.
Contact
Department of International Strategy
Japan Agency for Medical Research and Development (AMED)
Tel:03-6870-2216
E-mail:international"AT"amed.go.jp
Links