Topics

November 13, 2020

AMED signed Implementing Arrangement with European Union
Topics
New opportunities for Japanese talent to join ERC research teams in Europe
Dr Patricia FLOR, European Union(EU) Ambassador to Japan and Dr MISHIMA Yoshinao, President of the Japan Agency for Medical Research and Development (AMED) signed the new implementing arrangement on November 13, 2020. The ceremony took place in Tokyo and virtually in the presence of Prof Jean-Pierre BOURGUIGNON, President of European Research Council(ERC)and senior representatives from the EU, the Japanese government and the Mission of Japan to the EU, as well as AMED.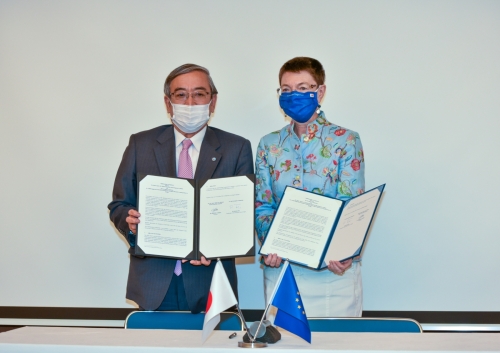 On this occasion, Ms Mariya GABRIEL, European Commissioner for Innovation, Research, Culture, Education and Youth said: "I'm delighted to see another initiative launched with a leading science nation like Japan. Both sides have a great deal to gain from it, as collaboration across borders and continents is more essential than ever. That is certainly true and also topical these days in the medical domain, to which this initiative pertains".

Prof Jean-Pierre BOURGUIGNON, President of ERC commented: "Making it possible for scientists backed by AMED, a major new research agency in Japan, to visit and work with ERC grantees is further proof of Japan's and the EU's shared interest in fostering global scientific collaboration at the highest level. It resonates with the ERC's ethos to encourage brain circulation, stimulate scientific exchange and to attract talent to Europe from anywhere in the world. Science knows no borders and its output benefits all".

Dr MISHIMA Yoshinao, President of AMED said: "This will expand opportunities for Japanese researchers to be active on the world stage and boost the collaboration of Japanese researchers with competent European researchers."

The initiative, formally called Implementing Arrangement, is open to top Japanese researchers supported by AMED. It will facilitate their temporary participation in ERC research groups in similar areas of research or on topics of mutual interest to generate synergistic benefits for both sides. Such research visits can be short- or long-term (single or multiple).

This deal, which is the ERC's sixteenth agreement of this kind, forms part of the ERC's global outreach strategy that aims to make Europe a hub for research talent.

It is also in line with the AMED strategy to promote interdisciplinary research and international collaboration to accelerate the development of medical research and practical application.

During the signing ceremony, there were speeches by Dr Patricia FLOR, EU Ambassador to Japan, Ms Maria Cristina RUSSO, European Commission Director for International Cooperation, DG Research and Innovation, Ms WATANABE Sonoko, Deputy Director-General of the Office of Healthcare Policy, Japan's Cabinet Secretariat, Dr MISHIMA Yoshinao, President of AMED, Prof Jean-Pierre Bourguignon, President of ERC, Mr MASAKI Yasushi, Ambassador Extraordinary and Plenipotentiary of Japan to the EU, Dr ARUGA Osamu, Director for International Science and Technology Affairs Division, Science and Technology Policy Bureau, Ministry of Education, Culture, Sports, Science and Technology (MEXT)
Background
The Japan Agency for Medical Research and Development (AMED), established in 2015, is a funding agency, overseen by the Cabinet Office (CAO), the Ministry of Education, Culture, Sports, Science and Technology (MEXT), the Ministry of Health, Labour and Welfare (MHLW), and the Ministry of Economy, Trade and Industry (METI) of Japan. The Agency promotes integrated research and development in the field of medicine, from basic research to practical application. The initial budget of AMED for FY2020 is around €928 million (JPY 127.2 billion).
The European Research Council(ERC), set up by the European Union in 2007, is the premiere European funding organisation for excellent frontier research. Every year, it selects and funds the very best, creative researchers of any nationality and age, to run projects based in Europe.
To date, the ERC has funded over 9,500 top researchers at various stages of their careers, and over 70,000 postdoctoral fellows, PhD students and other staff working in their research teams. With grants open to talent of any nationality, the ERC aims to attract top researchers from across the world. So far, 33 Japanese nationals have won ERC funding. The ERC also encourages non-European scientists to join ERC-funded teams. Around 17% of team members are non-European nationals. Over 300 Japanese nationals are or have been part of ERC teams across Europe.
After the first initiative in 2012 to encourage talent backed by the US National Science Foundation(NSF), to join temporarily ERC teams, Implementing Arrangements followed with prestigious funding bodies across different continents. This agreement is the third with Japan. The first initiative with a Japanese funding body was signed in 2015 with the Japan Society for the Promotion of Science (JSPS). In 2018, through the collaboration with the Japan Science and Technology Agency (JST), another agreement was concluded.
The ERC is led by an independent governing body, the Scientific Council. The ERC President is Professor Jean-Pierre BOURGUIGNON. The overall ERC budget from 2014 to 2020 is more than €13 billion, as part of the Horizon 2020 programme, for which Ms Mariya GABRIEL, the European Commissioner for Innovation, Research, Culture, Education and Youth is responsible.
Contact
Devision of International Strategy, Japan Agency for Medical Research and Development (AMED)
Address: 1-7-1 Otemachi, Chiyoda-ku, Tokyo 100-0004, Japan
E-Mail: international"AT"amed.go.jp
Replace "at" with "@".
Links