Events

"Joint Japan-Spain Symposium on Medical Research" Convened in Madrid last November:

Program Organized to Celebrate 150th Anniversary of the Launch of Japan-Spain Diplomatic Relations
Conference Report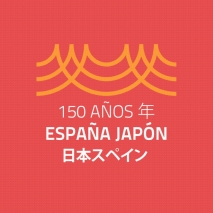 Celebrating the 150th Anniversary of Japan-Spain diplomatic relations programme
official logo mark
On November 7, 2018, the Joint Japan-Spain Symposium on Medical Research (Simposio Hispano-Japonés de Investigacion Médica) was held in Madrid, Spain. The event was convened to celebrate the 150th anniversary of the original establishment of diplomatic relations between the nations of Japan and Spain.
On April 5, 2017, the Japan Agency for Medical Research and Development (AMED) signed a memorandum of cooperation with the Secretariat of State for Research, Development and Innovation (SEIDI), under the Ministry of Economy and Competitiveness of the Kingdom of Spain at the time. Based on that memorandum, the November symposium was convened with the aim of forging cooperative ties for strengthened collaboration and promotion of research exchanges with Spain in the fields of biology and medicine.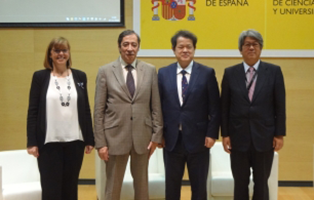 Session I speakers
In Session I of the symposium, the schedule began with opening remarks and congratulations from Dr. Makoto Suematsu, President of AMED; Dr. Rafael Rodrigo, Secretary General of Scientific Policy Coordination at the Spanish Ministry of Science, Innovation and Universities (MICINN); Mr. Masashi Mizukami, Ambassador of Japan in Spain; and Dr. Ángeles Heras, Secretary of State of MICINN.
In Session II, addressing the theme of "Rare diseases," the keynote speakers were Dr. Manual Posada, Director of the Institute of Rare Diseases Research at the Institute of Health Carolos III (ISCIII); and Dr. Kenjiro Kosaki of Keio University in Tokyo. In addition to those two gentlemen, four other speakers delivered research presentations, collectively buoying expectations for fertile cooperation between the Undiagnosed Diseases Program (UDP) of Spain utilizing the EuroBiobank, and the Initiative on Rare and Undiagnosed Diseases (IRUD) in Japan.
For Session III, the Spanish Bioindustry Association (ASEBIO) represented both Spain and Japan in presenting an exhibition of medical devices, profiling cooperation in the development of such devices by the two nations.
Session IV, pursuing the theme of "Nanomedicine," featured keynote speakers Dr. Hiroshi Handa of Tokyo Medical University and Dr. Luis Liz-Marzan of CIC-Biomagune. They were followed with research presentations by three other esteemed researchers on their respective studies.
In Session V, AMED and the State Research Agency (AEI) under MICINN joined to introduce three projects awarded through a Japan-Spain joint funding "nanomedicine call for collaborative research driven by early stage researchers", conducted in March of 2018.
The closing remarks for the gathering were given by Dr. Raquel Yotti, General Director of ISCIII, who expressed gratitude to all of the speakers that day, together with stellar hopes for redoubled energetic joint research and exchanges in the field of medical research and development between Japan and Spain going forward.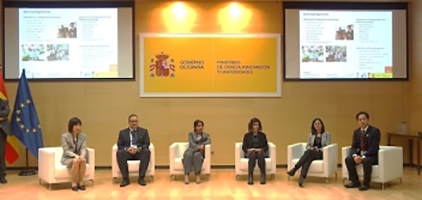 Session V speakers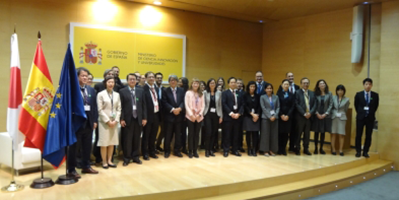 Group photographs