Intellectual Property

Handling of IP with AMED
In order to make maximum use of research outcomes by contracted projects, it is necessary to obtain IP rights that will link to practical applications and make effective use of them. AMED establishes and maintains a system in which IP policies can be formulated and AMED and contracted institutes can manage intellectual property in the most appropriate way at each stage, from planning until the finish of each project. AMED's Department of Intellectual Property also promotes IP management so that intellectual property produced by projects is appropriately protected and utilized. This is accomplished through timely reporting from contracted institutes of inventions produced by contracted projects, and through the timely support for IP activities from patent filing to exploitation.
Reporting invention
In order to link research outcomes to practical applications, it is essential to protect outcomes by intellectual property rights. In order to ensure that promising outcomes are protected with intellectual property rights, AMED makes it a contractual requirement that contracted research institutes promptly report to AMED when inventions, etc. are produced as the outcome of contracted projects. Based on the information reported, AMED's IP consultants provide support, as necessary, for protecting research outcomes by intellectual property rights. Furthermore, in order to maximize the outcomes of contracted projects, it is obligatory to report to AMED and to cooperate with studies by AMED, regarding the IP management of the research outcomes and the status of their exploitation.
For specific reporting procedures, please refer to the reporting guidelines for inventions, etc. If you have any questions, please direct your inquiry as indicated in the contact information below.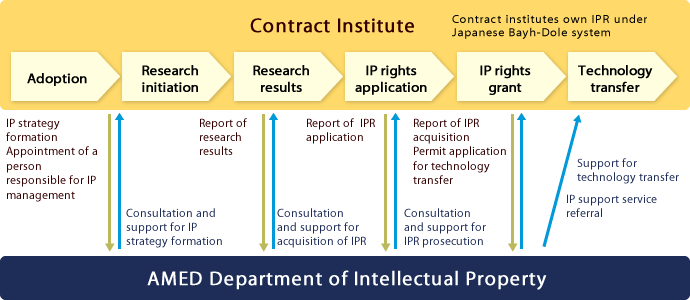 Contact
Tel
+81-3-6870-2212
E-Mail
medicalip"at"amed.go.jp
Remarks

10:00 AM to 12:00 noon / 1:00 PM to 5:00 PM (excluding holidays and year-end / New Year's holidays)
Replace "at" with "@".