Events

AMED Singapore Office participated in the "Thailand National Science and Technology Fair 2019" exhibition in Bangkok
Conference Report
"Thailand National Science and Technology Fair 2019" by the co-sponsorship of the Ministry of Science and Technology (MOST) and National Science Museum of Thailand, was held from 16th to 25th August 2019 near Bangkok, and the AMED R&D results were introduced for the second consecutive year.
The fair was started in 1984, and the main theme this year was "Science, Technology and Innovation: Inspiring Creativity for Better Living and Sustainability for the Nation". There were total 103 ministries, government agencies, companies and organizations from Thailand and abroad exhibiting and participating, and had over 1 million visitors during the event.
AMED Singapore Office was invited by the Embassy of Japan in Thailand to a part of the Japan Pavilion this year. Three AMED R&D results were introduced; one from Science and Technology Research Partnership for Sustainable Development (SATREPS) Programme, " Integrative Application of Human and Pathogen Genomic Information for Tuberculosis Control" by Professor Tokunaga Katsushi at The University of Tokyo, other two from Research Program on Practical Application of Health Technology for Developing and Emerging Countries, "Research and Development of Ultra-Sensitive Species-Specific DNA Testing Systems for Higher Detection Rates of Patients with Malaria Parasite Infections" by EIKEN CHEMICAL CO., LTD, and "Clinical Research on Retinal Degenerative Diseases Using iPS Cell-Derived Retinal Pigment Epithelium" by Dr. Masayo Takahashi at RIKEN.
On the second day, Dr. Weerapong Paesuwan, Chairman of the Advisory Committee of the Minister of Higher Education, Science, Research and Innovation visited to the AMED booth. There also were many visitors who showed great interests in Japanese medical technologies.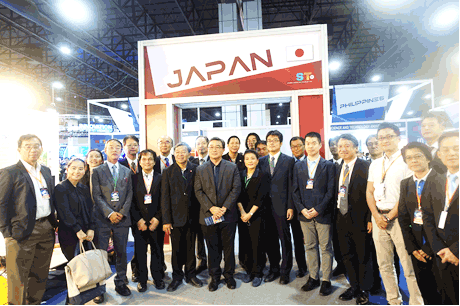 Group Photo in the JAPAN Pavilion
In the Japan pavilion, a total of ten Japanese institutions and organizations including National Space Policy Secretariat of the Cabinet Office, Japan Aerospace Exploration Agency(JAXA), Asian Institute of Technology(AIT), National Institute of Information and Communications Technology(NICT), Japan Science and Technology Agency(JST), Japan International Research Center for Agricultural Sciences(JIRCAS), Japan-ASEAN Science, Technology and Innovation Platform(JASTIP), RIKEN, Japan Society for the Promotion of Science(JSPS) Bangkok Office, and AMED Singapore Office participated.
The following photos are; representative of AMED Singapore Office was explaining AMED R&D results to Dr. Weerapong Paesuwan, Chairman of the Advisory Committee of the Minister of Higher Education, Science, Research and Innovation, and also other visitors.