Collaboration/cooperation with external institutions

Global Alliance for Chronic Diseases
Global Alliance for Chronic Diseases
Chronic non-communicable diseases account for 60% of all deaths in the world, of which 80% occur in low- and middle-income countries. Therefore, the Global Alliance for Chronic Diseases (GACD) was established in November 2009 to promote research that contributes to planning and executing policies for tackling chronic diseases in low- and middle-income countries and building a systematic evidence base for policymaking. (Nature 450 (2007) 494-496) The GACD supports global collaborative research undertaken by its member countries. In the period to 2015, the GACD addressed 36 agenda items under three programs (hypertension, diabetes, lung diseases).

As of January 2017, GACD membership is composed of 13 major funding agencies from 13 countries, including AMED, which joined the organization in June 2016.

Recently, the policy targets set by the GACD tend to be reflected in the policies of the World Health Organization (WHO). In addition, as pointed out in Japan's healthcare and medical strategies, rapid population aging is observed not only in Japan but also in Asian countries. Therefore it is expected to be of great benefit for AMED to monitor global discussions and trends and proactively participate in global collaborative research through the GACD, which, in turn, will contribute greatly to the development of medicine in Japan.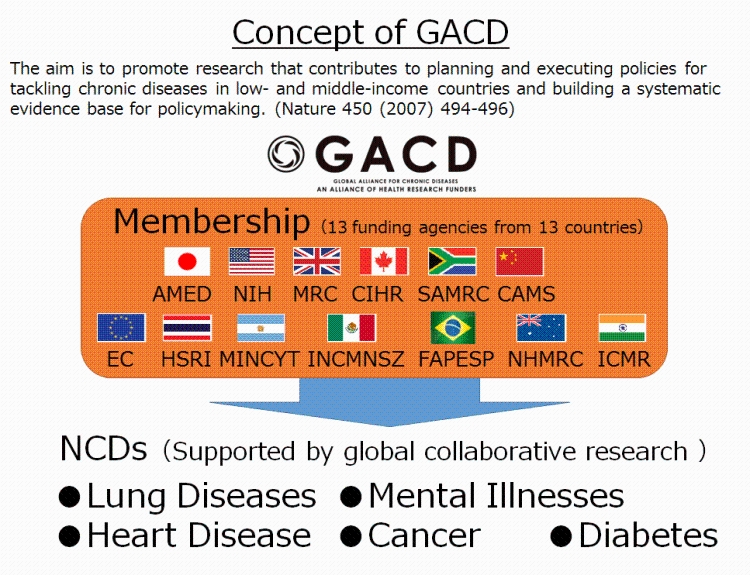 The GACD Secretariat is located within the University College London (UCL) in London, the United Kingdom, but will be moving to the Wellcome Trust headquarters in March 2017. Primarily composed of the Board and Management Committee, the GACD collaborates with its member funding agencies from around the world to engage in a range of activities including promoting project research and hosting science workshops.

Each research project under the GACD programs is funded not by the GACD, but by its respective member agencies.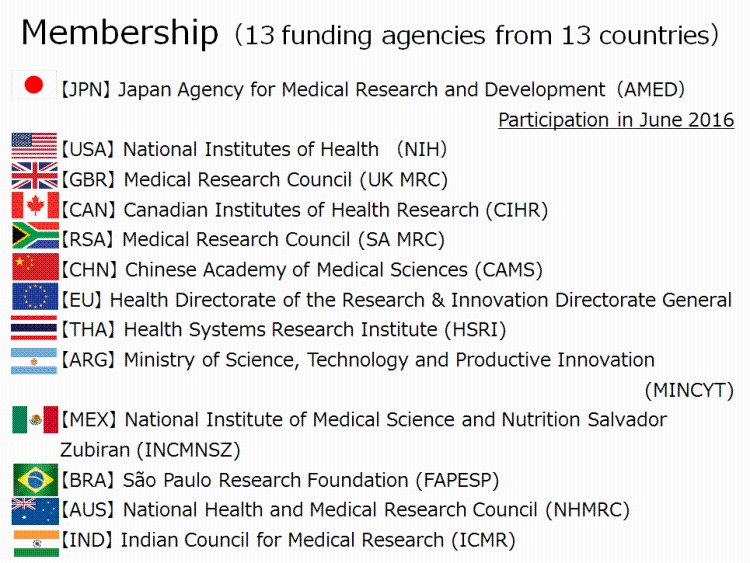 AMED's participation in the GACD
AMED officially joined the GACD at the Board meeting held in Tokyo in June 2016, with Dr. Makoto Suematsu, President of AMED, and Dr. Reiko Akizuki, Director of the AMED London Office, assuming the positions of Board member and Management Committee member, respectively.
The GACD Board hosts two meetings (June and December) and two teleconferences (March and September) each year. Board members participate in other committees and workshops so as to stay current with the latest information. The Management Committee hosts regular annual meetings as well as irregular meetings in line with the progress of projects. Through these meetings, hot topics around chronic non-communicable diseases, updates on ongoing discussions on agenda items, and their solution strategies can be analyzed. The outcomes are shared across AMED to facilitate networking among researchers in Japan and other countries, thereby promoting global collaborations.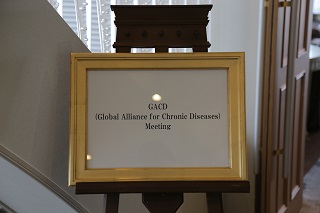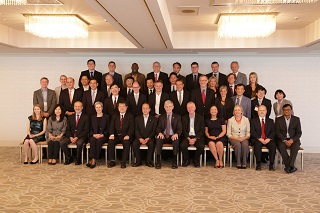 AMED's participation in the GACD was approved at the GACD Board meeting held in Tokyo on June 14, 2016. AMED served as the organizer of this meeting, helping to prepare the meeting agenda and supporting the attendees.
AMED's participation in an international joint call for research proposals
In February 2017, AMED opened a joint call for proposals on the GACD's mental health research project, which had been in preparation since 2016, along with other funding agencies participating in the project. The solicitation is expected to spur AMED's endeavor to establish a system where research theme proposals and peer reviews are implemented in English, thereby increasing global collaborations and enhancing Japan's competitiveness in the medical and life science fields.