Completed

Program for Integrated Promotion of Social System Reform and Research and Development
Outline
Key Fields
Other programs(1st)
R&D phase
Basic Study, Applied Study, Nonclinical Study/Pre-clinical Study, Clinical Study, Clinical Trials
Contact

Division of International Collaboration, Department of International Affairs

TEL: +81-3-6870-2216
Overview
This project enables ongoing cooperation between research institutions in Japan and Africa that contributes to scientific and technological innovation, from international joint research projects to human resource development and international standardization.
Program for the Strategic Promotion of International Cooperation to Accelerate Innovation in Developing Countries
Build a network between Japan and Africa for joint continuous research cooper ation that leads to innovation and sustainable development.
Research institution(s) in the counterpart countries shall be identified and utilized as "Regional Centers of STI Cooperation", which will function as hubs of research and innovation networks between Japan and Africa.
Possible themes of the cooperation will be jointly identified on the basis of mutual benefit such as those related to green and life innovation in line with Japan's national strategy and Africa's CPA.
Strengthen human networks between science communities in Japan and Africa through promoting research, development and innovation.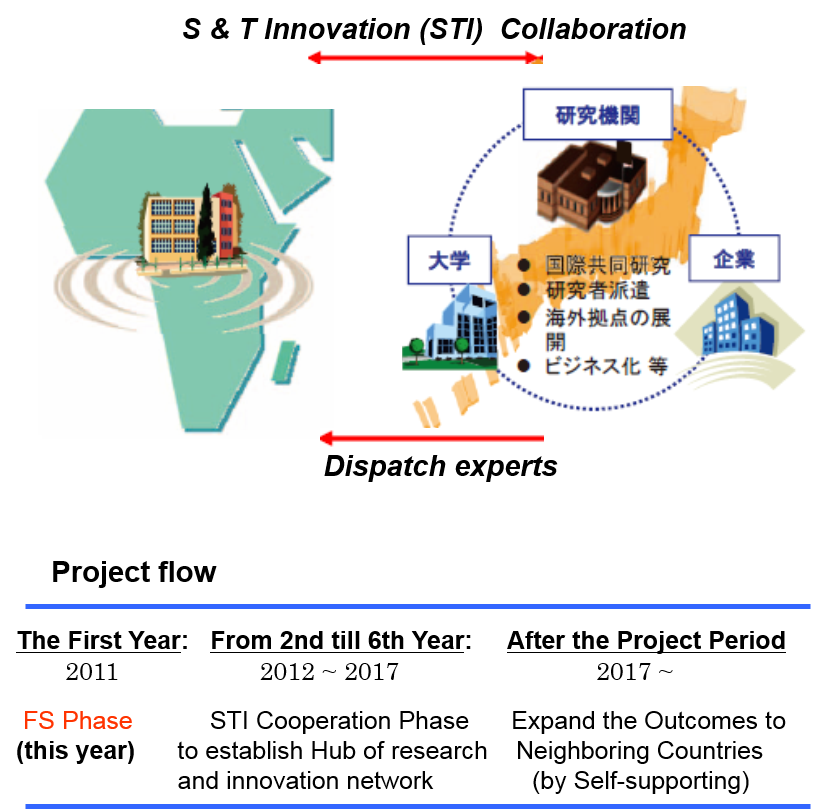 Implementing Body
Duration: FY2011~FY2017

| | |
| --- | --- |
| Title of Research and Development | Development of a simultaneous diagnosis method for multiple infections of neglected tropical diseases (NTDs) in Africa |
| Representative institutions | Nagasaki University |
| Principal Investigator | Shunichi Yamashita |
| Summary of research and development | We launched a project to develop a microsphere-based multiplex immunoassay system to monitor and detect several infectious diseases simultaneously. This comprehensive system provides an opportunity to describe epidemiological features of several tropical infectious diseases. By adding pathogens and antigens of interest, optimized made-to-order high-quality programs can be established, which utilizes limited resources to effectively control the diseases. The serological surveillance system would also enable us to monitor the burden of infectious disease control and prevention programs. |
| | |
| --- | --- |
| Title of Research and Development | Development and Sustainability of Clinical Trial site for Malaria Vaccine in Uganda |
| Representative institutions | Osaka University |
| Principal Investigator | Toshihiro Horii |
| Summary of research and development | Clinical development of BK-SE36 malaria vaccine is our ultimate goal. We are currently conducting a Phase Ib clinical trial (1-5 y-old subjects) in Burkina Faso. A number of clinical malaria studies are also on-going in collaboration with partner researchers in six universities/institutes in Japan. The project begun to address various gaps in malaria vaccine development in response to the call of the Strategic Funds for the Promotion of Science and Technology. |
Results Report
Management and Evaluation Framework
PS (Program Supervisor)

Takeshi Kurata (Professor of International University of Health and Welfare Shioya Hospital)

PO (Program Officer)

Takashi Nishigaki (Program Officer, Japan Science and Technology Agency)