Division of Strategic Planning and Evaluation

Practical Research Project for Rare / Intractable Diseases
Outline
Key Fields
Innovative Drug Discovery and Development Project, Intractable disease/Rare disease, Rare/Intractable Disease Project of Japan(1st)
R&D phase
Basic Study, Applied Study, Nonclinical Study/Pre-clinical Study, Clinical Study, Clinical Trials, Post Marketing, Clinical Research, None
Contact

Division of Strategic Planning and Evaluation, Department of Innovative Drug Discovery and Development

TEL: +81-3-6870-2226
Overview
The goal of this project is to promote the elucidation of the causes of intractable diseases that fulfill the four conditions of unknown mechanism of onset, no established treatment method, rarity, and requiring long-term medical treatment, as well as the development of groundbreaking methods of diagnosis and treatment, with the aim of improving the standard of treatment for all patients suffering from intractable diseases.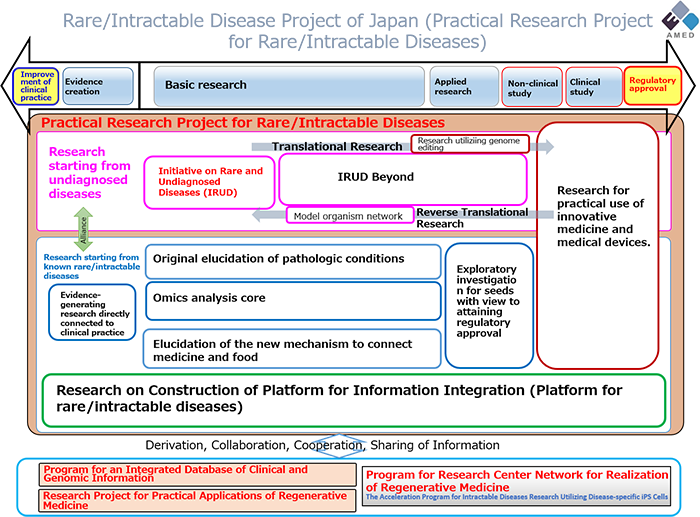 Please click above image to open the PDF
Project Highlights
This Project supports research and development (R&D) on rare and/or intractable diseases by offering extramural funding opportunities. To be eligible for this Project, each individual R&D project should target at least one disease that is currently or potentially registered as "Nambyo" in Japanese, which meets the following four requirements: 1) its etiology remains unknown; 2)its standardized treatment remains unestablished; 3) it is rare; and 4) the patient requires long-term care.
On R&D, support by the Project is intended to accelerate the regulatory approval process of new or repurposed drugs and medical devices, as described in the "Research & Development Pipeline" (Figure 1); on other aspects, the Project promotes research on such various topics as:
- Research designed to improve the quality of medical practice;
- Pathological research focusing on genome analysis in specific disease subcategories; and
- Etiological research making use of collected biosamples.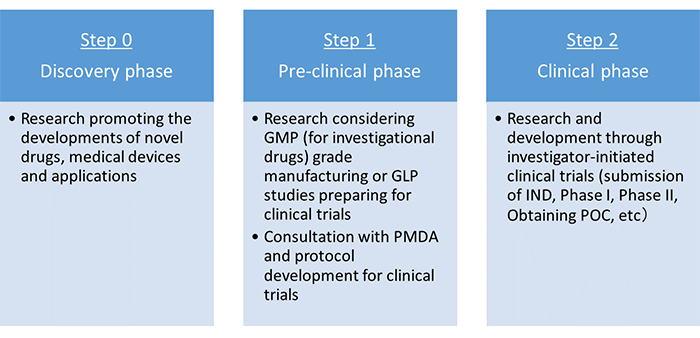 *Participation of experts on biostatistics, intellectual properties and clinical trials are encouraged.
*New funding opportunity announcements are usually made public in the third or fourth quarter of this fiscal year.
Management and Evaluation Framework
PS (Program Supervisor)
Shigeki Kuzuhara, M.D., Ph.D., Dean, Graduate School of Health Science / Professor of Neurology and Medicine, School of Nursing, Suzuka University of Medical Science
PO (Program Officer)
Fumitoshi Asai, Ph.D., Director, Sept.Sapie CO.,LTD
Takashi Igarashi, M.D., Ph.D, President, National Center for Child Health and Development
Sadakatsu Ikeda, M.D., Ph.D, Associate professor, Cancer Center, Tokyo Medical and Dental University
Ken Ishii, M.D., Ph.D., Professor, Institute of Medical Science, The University of Tokyo
Osamu Inagaki, Ph.D., Drug Evaluation Committee, The Japan Pharmaceutical Manufacturers Association
Mamoru Narukawa, Ph.D., Professor, Graduate School of Pharmaceutical Sciences Department of Clinical Medicine (Pharmaceutical medicine), Kitasato University
Masatoyo Nishizawa, M.D., Ph.D., President, Niigata University of Health and Welfare
Kazuko Wada, M.D., Manager, Department of Neonatal Medicine, Osaka women's and children's hospital, Osaka prefectural hospital organization
Hiroshi Watanabe, M.D., Ph.D., Executive Director and Vice President, Hamamatsu University School of Medicine
Data Sharing Policy for Rare / Intractable Disease Project of Japan
Rare / Intractable Disease Project of Japan, one of nine interrelated areas of AMED. intends to formulate "Data Sharing Policy" which has been prepared by the Japan Genomic Medicine Project.
The policy will provide a framework for achieving a balance between protecting the rights of research participants and researchers who provide data and / or information and the advancement of research in related fields through data sharing. The aim is to ensure the prompt, wide, and appropriate sharing and release of genomic data that contributes to research outputs and genomic information, including clinical information and analytical and interpretive results, in order to realize healthcare that utilizes genomic information.
For details of the policy, please refer to the following files. For application of this policy, please check each application guideline.
Study on rare / intractable diseases and study on construction of information infrastructure that contributes to medical development (Platform for rare / intractable diseases)
In February 2017, AMED started research toward the construction of information infrastructure (Platform for rare/intractable diseases) intended for use by "Practical Research Project for Rare / Intractable Diseases" and "Policy Research Project for intractable diseases" of Ministry of Health, Labour and Welfare (the "Rare / Intractable disease group").
"Platform for rare / intractable diseases" is expected to be ready for full-scale operation in 2018 with the aim of facilitating the maximum effective utilization of information on rare / intractable diseases obtained by the two projects.
For details of the policy, please refer to the following files.