Division of Medical Device

Research Program on Practical Application of Health Technology for Developing and Emerging Countries
Outline
| | |
| --- | --- |
| Key Fields | Medical Device Development(1st) |
| R&D phase | Basic Study, Applied Study, Nonclinical Study/Pre-clinical Study, Clinical Study, Clinical Trials, None |
| Contact | E-mail: shinko-kiki"AT"amed.go.jp(Replace"AT"with @.) |
Overview
Developing countries are faced with a set of public health issues that differ from those of Japan, which means their needs for medical devices may also be specific to them. To develop products that cater to their needs and price standards, the program supports pre-market-launch R&D at actual clinical settings in developing countries, including identification of needs and concept formulation through the design approach.
FY2018 budget
310 million yen
Program Outline
The program promotes R&D of medical devices in full consideration of needs in developing and emerging countries, especially Thailand, Indonesia, Vietnam and Malaysia. Assistance is offered by support providers versed in design approach.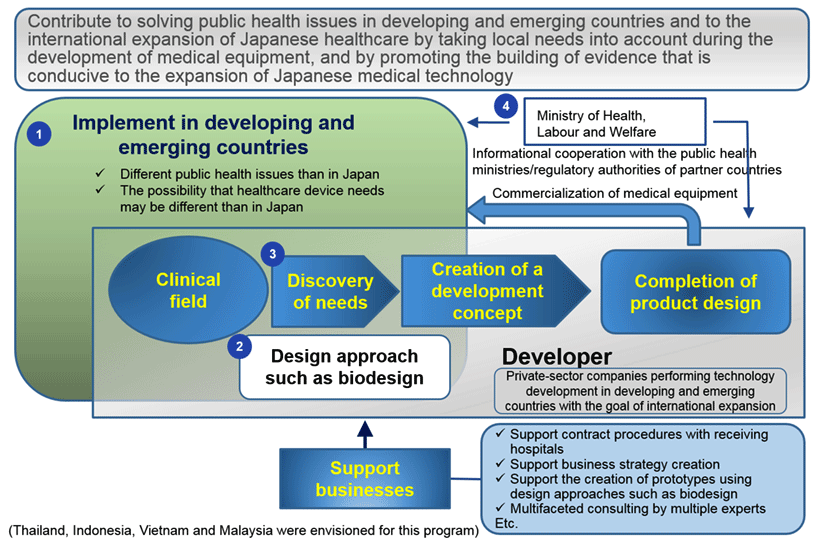 Initial Stage of Development
In the first program year, the design approach including biodesign is adopted. Researchers will immerse themselves in local medical institutions in developing and emerging countries to observe and identify their needs, translate the needs into specific product design needs, list them in order of priority, formulate concrete product concepts, and create prototypes based on the concepts. In the process, business feasibility assessments are performed in preparation for product launch.
Later Stage of Development
In the second and third program years, strategies are formulated to prepare for early regulatory approval and commercialization and R&D is conducted for all stages from prototype creation to regulatory approval. The program seeks to thereby contribute to solving public health problems in developing and emerging countries as well as to globalizing Japanese medical care.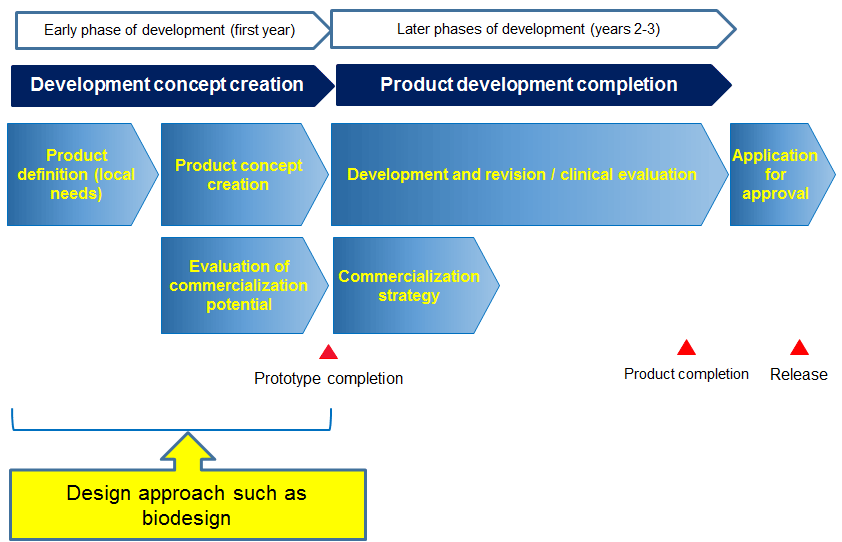 Program Management Framework
Program Supervisors (PSs) and Program Officers (POs) are assigned to manage the program.
PS, PO
PS and PO

Name
Seigo Kitano
Affiliation
MD, Ph.D.
President, Oita University
Target
Private corporations looking to advance into the global market by developing technologies tailored to developing and emerging countries. (Eligible applicant bodies are R&D units/divisions, research institutes or other organizations of private corporations.)
Project size
10 to 30 million yen per year including indirect expenses of 30%.
Research period
Maximum of three years.