Division of Data Sharing and Medical Art

Practical Research Project for Allergic Diseases and Immunology (Research on Technology of Medical Transplantation)
Outline
Key Fields
Other programs(1st)
R&D phase
Basic Study, Applied Study, Nonclinical Study/Pre-clinical Study, Clinical Study, Clinical Trials, Post Marketing, Clinical Research, None
Contact

Division of Rare / Intractable Disease Research, Department of Research Promotion

TEL: +81-3-6870-2223
Overview
Although medical transplantation is an important treatment with a curative intent, it is a treatment that rests entirely on the goodwill of third-party donors. As such, the intentions of donors should be respected as much as possible. Because of this unique aspect, medical transplantation aims for remarkably higher treatment results than standard medical treatments. More efforts should be directed to develop measures to assure the safety of patients/recipients and donors and to develop new treatment methods to effectively utilize limited donor sources (donated hematopoietic stem cells, organs and tissues).
Furthermore, the government has enacted the Act on Organ Transplantation for organ transplantation and Act for Appropriate Provision of Hematopoietic Stem Cells to be Used in Transplantations for hematopoietic stem cell transplantation, which also demand that safety and fairness be ensured in healthcare.
This program aims at ensuring the government and those concerned steadily promote the initiatives specified in the relevant laws, including effective and safe organ transplantation that respects the donors' intentions as much as possible and dissemination of research findings regarding state-supported research on hematopoietic stem cell transplantation.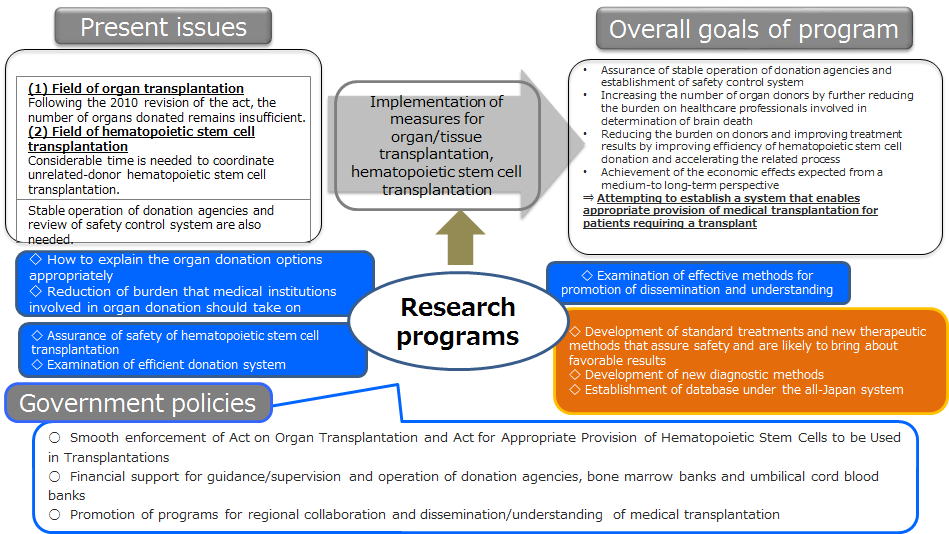 Management and Evaluation Framework
PS (Program Supervisor)

Soichiro Kitamura, Honorary President, Department of Cardiovascular Medicine, National Cerebraland Cardiovascular Center
Yoshihisa Kodera, Professor, Department of Promotion for Blood and Marrow Transplantation Aichi Medical University School of Medicine

PO (Program Officer)

Takaaki Kobayashi, Professor, Department of Renal Transplant Surgery, Aichi Medical University School of Medicine
Yuka Tanaka, Associate Professor, Hiroshima University
Katashi Fukao, Honorary Director, Chiba Rosai Hospital
Hiroyuki Yokota, Professor, Director & Chair, Nippon Medical School Graduate School of Medicine
Hisashi Sakamaki, Honorary Director, Tokyo Metropolitan Cancer and Infectious Diseases Center Komagome Hospital
Maki Hagihara, Dept.of Internal Medicine and Clinical Immunology Yokohama City Universuty
Teruhide Yamaguchi, Visiting Professor, Nihon Phamaceutical University