Division of Basic Medical Research

Practical Research Project for Renal Diseases
Outline
Key Fields
Other programs(1st)
R&D phase
Basic Study, Applied Study, Nonclinical Study/Pre-clinical Study, Clinical Study, Clinical Trials, Post Marketing, Clinical Research, None
Contact

Division of Rare / Intractable Disease Research, Department of Research Promotion

TEL: +81-3-6870-2223
Overview
In Japan, the number of patients with renal diseases is increasing year by year and renal diseases rank as the eighth leading cause of death. At the end of 2012, as many as 310,000 persons received dialysis therapy. These data indicate the critical impact of renal diseases on the nation's health.
Lifestyle is involved in the onset and progression of chronic kidney disease (CKD), which is characterized by long-term progression of decline in renal function. As demonstrated by recent scientific findings, CKD has been regarded as a disease whose progression can be prevented by improving lifestyles and introducing drug therapy. However, the importance of these prophylactic and therapeutic approaches has not been understood sufficiently.
The purpose of this program is to improve the measures to control CKD in Japan. Toward this goal, the program aims to conduct research for elucidation of the pathological conditions of CKD, prevention, early detection and diagnosis of CKD, and treatment and prevention of aggravation of CKD in a systematic manner; accumulate findings leading to the development of methods for preventing, diagnosing and treating CKD; and prepare and update guidelines for preservation of renal function.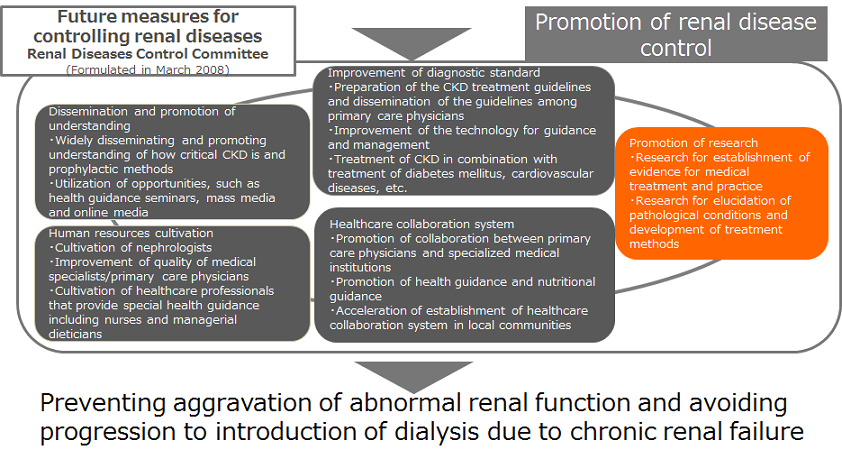 Management and Evaluation Framework
PS (Program Supervisor)

Atsushi Aikawa, Emeritus Professor, Department of Nephrology, Toho Univerrsity, School of Medicine

PO (Program Officer)

Hideto Sakai, Facility director, Geriatric health services facility Shimoda
Yasuhiko Tomino, Managing Director, Medical Corporation SHOWAKAI
Masahiko Nagahama, Division of Nephrology Program Director, Nephrology Fellowship Transplant program, St.Luke's International University
Takayuki Hamano, Associate Professor, Department of Comperehensive Kidney Disease Research Osaka University Graduate School of Medicine