Division of Basic Medical Research

Practical Research Project for Allergic Diseases and Immunology
Outline
Key Fields
Innovative Drug Discovery and Development Project, Health and Clinical Data Project, Basic Medical Research Project
R&D phase
Basic Study, Applied Study, Nonclinical Study/Pre-clinical Study, Clinical Study, Clinical Trials, Post Marketing, Clinical Research, None
Contact

Division of Basic Medical Research, Department of Basic Medical Research

TEL: +81-3-6870-2286
E-mail: nambyo-i"AT"amed.go.jp
Remarks:

※For the email address, please replace "AT" with the @ symbol.
※For inquiries please contact the email above.
Project Highlights
1. This project supports research and development on allergic and/or immunological diseases shown in the figure below. For efficient utilization of the research and development funds, this project does not support research that mainly targets "designated intractable diseases".
2. This project supports the following research and development aimed at maintaining and improving the QOL of patients.
Research on pathogenesis of diseases: High-quality basic research on the etiology and pathogenesis of diseases, creation of disease models, and discovery of drug seeds, etc.
Research on improvement of medical practice quality: Research aimed at improving the quality of medical practice through the creation of high-quality evidences.
Research and development of pharmaceutical products (Step 0/1/2). Step 0 (Discovery phase) : Research promoting the development of novel drugs, Step 1 (Pre-clinical phase) : Research and development of GMP grade manufacturing or GLP studies preparing for clinical trials, Step 2 (Clinical phase) : Investigator -initiated clinical trials (Phase I, Phase II, Obtaining POC, etc.)
Figure : Allergic and immunological diseases supported in this project.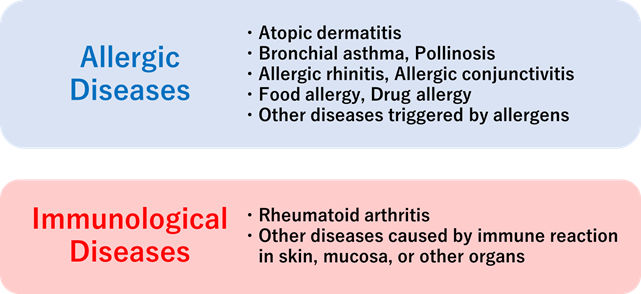 Management and Evaluation Framework
PS (Program Supervisor)

IIZUKA Hajime, M.D., Ph.D., Director, Kojinkai, Association of Medical Corporation, Research Institute of Psoriasis

PO (Program Officer)

ADACHI Yuichi, M.D., Ph.D., Director, Toyama Red Cross Hospital Pediatric Allergy Center
KUWANA Masataka, M.D., Ph.D., Chief Professor, Nippon Medical School Graduate School of Medicine
TAKENAKA Hiroshi, M.D., Ph.D., Representative Director, The Systemic Research Group about Medicine & Health Care
TADA Yayoi, M.D., Ph.D., Chief Professor, Teikyo University School of Medicine
TAMARI Mayumi, M.D., Ph.D., Professor, The Jikei University School of Medicine