Division of Translational and Clinical Research Center

Project of Translational and Clinical Research Core Centers
Outline
Key Fields
Translational & Clinical Research Core Centers(1st)
R&D phase
Basic Study, Applied Study, Nonclinical Study/Pre-clinical Study, Clinical Study, Clinical Trials, Post Marketing, Clinical Research, None
Contact

Division of Clinical Research and Trials, Department of Clinical Research and Trials

TEL: +81-3-6870-2229
Translational Research Network Program
The aim of the Translational Research Network Program is to encourage networking between the nine translational research support centers nationwide, improve their capacity to develop breakthroughs, and establish permanent centers, with the objective of putting promising results from basic research to clinical use.
Core Clinical Research Hospitals Associated Project
Early-phase / Exploratory or International-standard Clinical Research
This project equips hospitals with quality assurance systems for clinical trials, which will play a central role in international-standard clinical trials (ICH-GCP-compliant) and investigator-initiated trials, with the objective of improving the quality of initial exploratory clinical trial centers and clinical trials involving the world's first administration or use of innovative drugs or medical devices in human beings.
Project for Securing High Quality Clinical Research, Budget Support for Academic Research, Early/Exploratory Clinical Trial Center Development Projects, and Research Support Center for Japan Initiated Global Clinical Trials Development Project
This project supports initial exploratory investigator-initiated clinical trials, clinical studies to international standard (ICH-GCP-compliant), investigator-initiated clinical trials, and post-marketing clinical research, with the aim of linking the results of basic research to drug approval to enable the creation of innovative drugs and medical devices.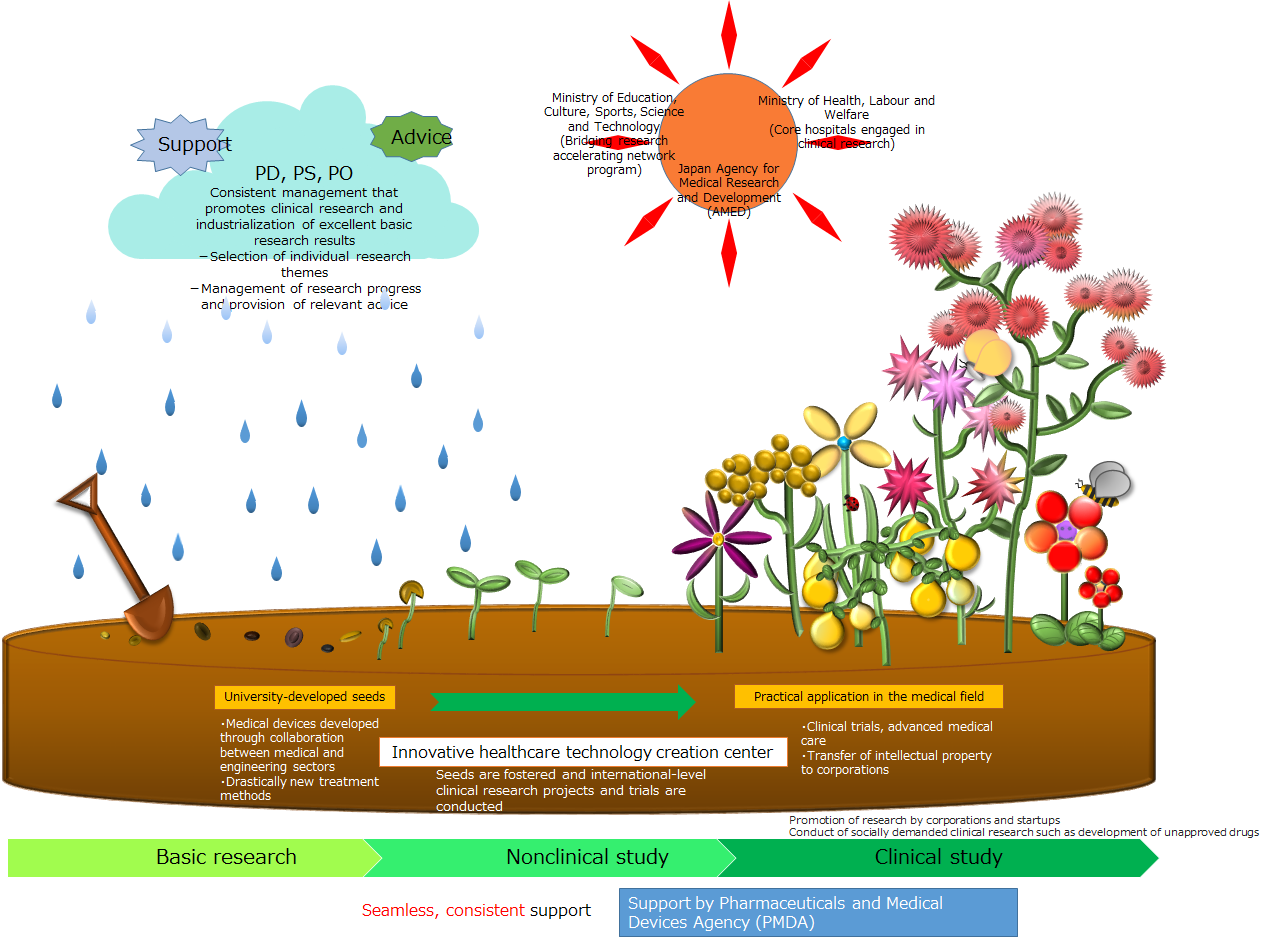 Brochure