Division of Research Programs

Research Program on the challenges of Global Health issues
Outline
Key Fields
Other programs(1st)
R&D phase
Applied Study, Clinical Study, Clinical Research
Contact

Office of International Collaboration, Division of International Strategy, Department of International Strategy, AMED

TEL: +81-3-6870-2216
E-mail: chikyukibo"AT"amed.go.jp(※Replace "at" with @.)
Overview
This program promotes research related to global-scale public health issues (infectious disease control, maternal and child health, emergency measures to control new strains of influenza, aging populations, lifestyle-related diseases, etc.) in areas including identifying disease etiologies, investigating methods of prevention, and standardizing methods of disease diagnosis and treatment. It aims to contribute to the global health by taking advantage of advanced science and technology, and knowledge and experiences which have been accumulated in our country. It also aims to enhance the global cooperation in research for health, especially with a focus on the Asian region. Achievements and findings of this program are expected to be an instrumental for international organizations in developing a global policy and principle.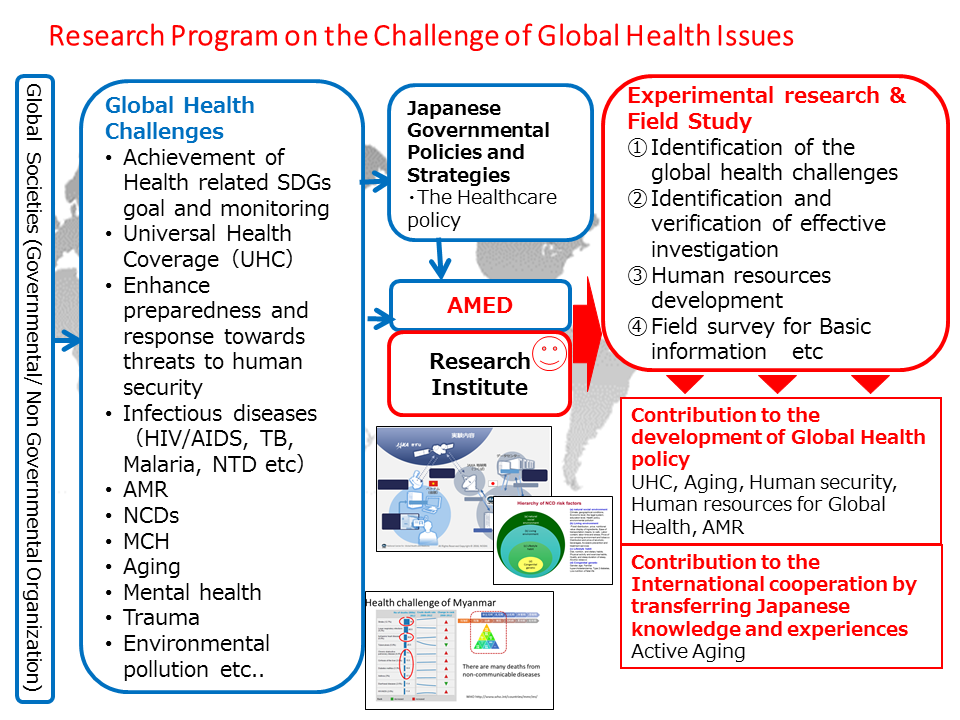 Funding opportunities
For details, please see the Japanese web page.
Implementing Body
| Title of research and Development | Duration | Representative Institutions | Principle Investigator |
| --- | --- | --- | --- |
| Feasibility study of the monitoring framework for lifestyle related diseases in developing countries. | 2014-2016 | National Center for Global Health and Medicine | Yumi MATSUSHITA |
| Feasibility of monitoring frameworks for global health issues | 2014-2016 | National Institute of Public Health | Satoshi SONE |
| Research and Development of the process to determine evidence-based indicators and their verification for global monitoring framework | 2014-2016 | National Center for Child Health and Development | Rintaro MORI |
| Promotion of an integrated continuum of care: Disease control and prevention strategies for health related agenda of post MDGs | 2015-2017 | The university of Tokyo | Masamine JINBA |
| International comparative study on the health and economic burden of the obesity. Scientific research on the development of effective framework for NCD prevention and control- | 2015-2017 | National Cerebral and Cardiovascular Center | Yoko NAKAO |
| Research on non-communicable diseases (NCD) as a post MDG global health issue- multi-disciplinary study for promoting NCD control in Oceania, South Asia, and Africa | 2015-2017 | Nagoya University | Atsuko AOYAMA |
| Study on the optimization of health care services, by using Japanese advanced information science and technology, to achieve UHC | 2015-2016 | National Center for Global Health and Medicine | Yumi MATSUSHITA |
| Study on the mental health and psychosocial support by using mobile communication technology in time of disaster. | 2015-2016 | National Center of Neurology and Psychiatry | Yoshiharu KIM |
Management and Evaluation Framework
PS (Program Supervisor)

Hiroyoshi Endo, M.D., M.P.H., Ph.D., Dean, Graduate School of Public Health, St. Luke's International University

PO (Program Officer)

Tamotsu Nakasa, M.D., M.P.H., Director, Department of Health Planning and Management, Bureau of International Health Cooperation Japan, National Center for Global Health and Medicine