Division of Basic Medical Research

Research Program on Hepatitis
Outline
Key Fields
Innovative Drug Discovery and Development Project, Health and Clinical Data Project, Basic Medical Research Project
R&D phase
Basic Study, Applied Study, Nonclinical Study/Pre-clinical Study, Clinical Research, None
Contact

Division of Basic Medical Research, Department of Basic Medical Research / Division of Strategic Planning and Evaluation, Department of Innovative Drug Discovery and Development / Division of Genomic Medicine, Department of Health and Clinical Data

TEL: +81-3-6870-2225
E-mail: hepatitis"AT"amed.go.jp
Remarks:

※For the email address, please replace "at" with the @ symbol.
※For inquiries please contact the email above.
This program aims to significantly improve the treatment of hepatitis by comprehensively promoting basic and clinical research on hepatitis in partnership with national and local government. This program includes the following two sub-programs:
i. Program for Basic and Clinical Research on Hepatitis

This program aims to improve the methods for hepatitis prevention, diagnosis, and treatment. This program also facilitates basic and clinical research that leads to the development of pharmaceuticals and medical devices necessary for treatment.

ii. Program on the Innovative Development and Application of New Drugs for Hepatitis B

This program aims to develop revolutionary therapeutic agents for hepatitis B. It comprehensively promotes clinical research, which results in drug discovery and its practical applications on the basis of fundamental research.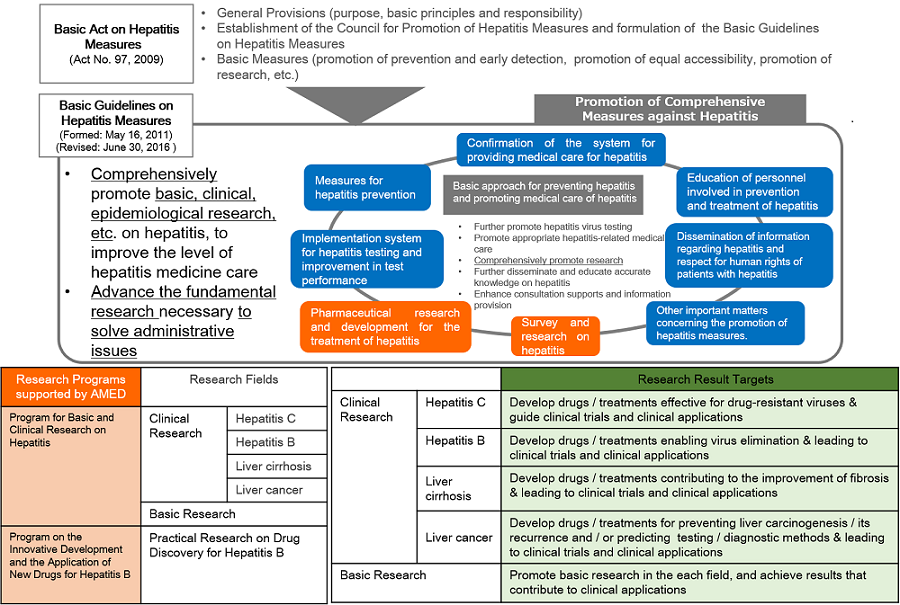 List of Research Projects
Management and Evaluation Framework
PS (Program Supervisor)

HAYASHI Norio, Director General, Japan Organization of Occupational Health and Safety, Kansai Rosai Hospital

PO (Program Officer)

IMAZEKI Fumio, Professor Emeritus, Chiba University
ESUMI Mariko, Visiting Professor, Nihon University
SAIGO Ken-ichi, Director, MEISEIKAI
SHIMOKAWA Teruhiko, Professor, Institute of Research Innovation, Tokyo Medical and Dental University
TAKEBE Yutaka, Visiting Professor, Centre of Excellence on Research in AIDS, University of Malaya, Malaysia
NAKAGAWA Mina, Associate Professor, Tokyo Medical and Dental University
HANAOKA Fumio, Director-General, National Institute of Genetics