GA4GH

GEM Japan (GEnome Medical alliance Japan)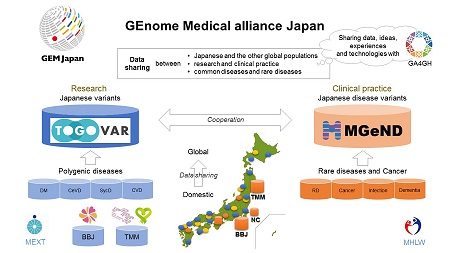 The Global Alliance for Genomics and Health (GA4GH

) is an international organization aiming to advance medical care and medicine through responsible sharing of genomic and health-related data.
The GEM Japan (GEnome Medical alliance Japan) has been named a GA4GH Driver Project, pursuing integration of the results of AMED projects to realize genomic medicine in Japan.
Latest News
GEM Japan
The GEM Japan project, which has covered Program for an Integrated Database of Clinical and Genomic Information, Platform Program for Promotion of Genome Medicine, BioBank Japan Project for Genomic and Clinical Research, Tohoku Medical Megabank Project in Japan, plans to share the allele frequencies as well as disease variations of Japanese population, and has held GEM Japan workshops in order to localize the GA4GH tools into non-English speaking countries.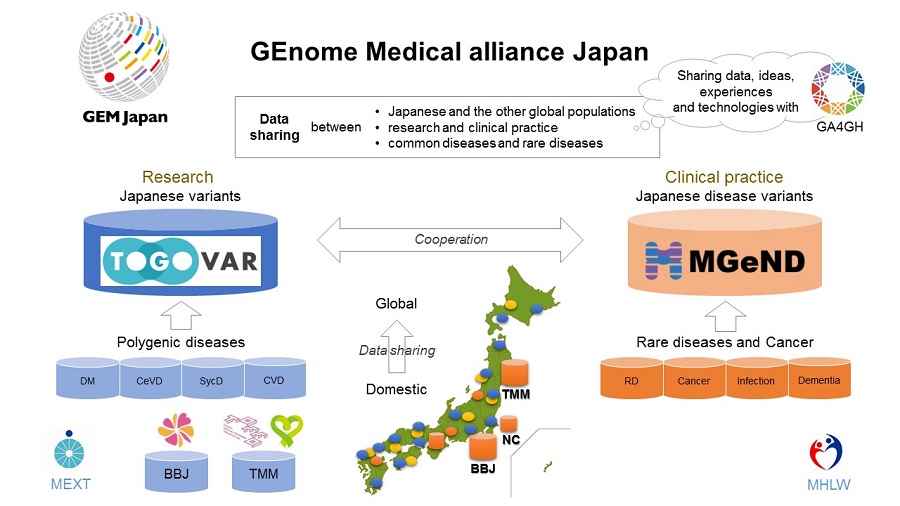 Data sharing
AMED has drawn up
Data sharing Policy for the Realization of Genomic Medicine
that guides sharing of genomic information. The Policy defines a framework for protecting the rights of research participants and researchers who provided the data and information, while, at the same time, facilitating research in related fields through data sharing.
Data and its sharing database
Overviews of the data produced by R&D projects, which are in scope of the policy, are
here
(Japanese only)
Contact Us
Japan Agency for Medical Research and Development (AMED)
GEM Japan Contact Office
E-mail: GEMJ-contact"AT"amed.go.jp
※Replace"At"with @.